School ProfileCurriculumCo-Scholastic
Having a firm belief in the dictum that education is preparation to meet life's situations, we lay special emphasis on the student friendly, learner centered teaching methodology, nurture creative and independent thinking and adopt the three language formula. The techno-savvy era has inspired us to teach through technology, with technology and from technology so that the species that emerge after successfully completing class X are a final product to plunge into the vast sea of careers. The child is taught not to learn but to comprehend, apply, evaluate and then create.
Timing:
| Class | Day | Time |
| --- | --- | --- |
| Classes 9 & 10 | Monday to Friday | 7:15 to 12:55 p.m. |
| Classes 9 & 10 | Saturday | 7:15 to 12:55 p.m. |
Facts:
Important Facts
Total Number of Student Enrolled
235
Number of Classes
(Std 9 to 10)
Number of section per classes
(A & B)
Maximum Student per classes
60
Total Number of Teachers
25
Total Number of Class Rooms
4
Total Number of Subjects
10
Total Number of Sports
10
Std 9 and 10
First Language: English
Second Language: Hindi/ Tamil/ Kannada/ French/ Malayalam
Science (Physics, Chemistry and Biology- combined)
Social Studies (History, Civics and Geography – combined)
Mathematics
Information Technology
Sports
We lay emphasis on physical education and physical fitness. Apart from learning the intricacies of various games, sports and physical education, the students develop stamina & endurance that is so essential to be able to get away from a sedentary way of life and develop the spirit of sportsmanship. We believe that playing sport is not just about physical activity but is essential to the holistic development of an individual. The sporting activities available in our campus are Cricket, Football, Tennis, Hockey, Volleyball, Badmintion, Tabletennis, Basketball, Swimming, Horse riding, Volley Ball and an Ultra Modern Gym.
Art & Music
Art is one of the highest forms of expression, a language that we speak, cutting through individual differences in culture and ability. Art brings every subject to life and turns abstractions into concrete reality. At IPS the Art & craft classes give an opportunity to a child to express his/her innate senses. The Art & Craft classes provide every student an opportunity to explore his artistic side, be it painting, origami, oil on canvas or something as simple & unique as paper craft.
At IPS, Music & Dance are believed to be the expression of the soul. We focus on basic lessons of Music & dance. Our music & dance curriculum focuses on children learning basic music notes, basic dance movements which enable incredible coordination and foster close relationships. Our students are introduced to both Indian and Western music, vocal as well as instrumental. All kinds of Dance forms like Indian, contemporary, Hip Hop, Jazz etc. are introduced to children. Our students opt Music as their subject at secondary and senior secondary level.
Spare Time Activities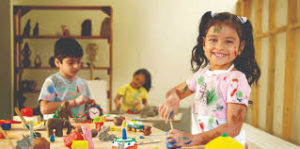 Students involve themselves in: pottery, gardening, toy making, needle works, painting, drawing etc.
Animal caring; horse, dog, and cow. Tree Planting & caring, Bee keeping agriculture etc are also open to the interested students.