School ProfileCurriculumCo-Scholastic
The best of Montessori kindergarten Play-way methods are adopted and adapted for the pre-primary level. Audio-Visual aids leave an indelible impression on young minds and to make education a pleasurable experience, the students of pre-primary section have been provided with the facility of home theatres in their classrooms to facilitate teaching learning process.
Timing:
| Class | Time |
| --- | --- |
| Nursery | 8:30 a.m to 11:30 a.m |
| Jr.K.G | 8:30 a.m to 11:30 a.m |
| Sr. K.G | 8:30 a.m to 11:30 a.m |
Facts:
Important Facts
Total Number of Student Enrolled
300
Number of Classes
3(Nursery, Sr. K.G., Jr. K.G.)
Number of section per classes
(A & B)
Maximum Student per classes
45
Total Number of Teachers
12
Total Number of Class Rooms
6
Total Number of Subjects
9
I. LANGUAGE (ENGLISH)
Pre-writing Strokes
Capital letters 'A-Z'
Sentence Structure
Vocabulary Building
II. NUMBERS
Pre-Math concepts
Numbers (1-20)
Shapes
Colours
III. GENERAL AWARENESS
Myself
Seasons
Transport
Fruits
Vegetables
Animals
IV. ENVIRONMENTAL SCIENCE
Colours and shapes
Awareness about good eating habits
Saying 'No' to junk food
Eat healthy food
Importance of greenery
Planting trees
General conversation about various seasons like summer, monsoon etc.
Road safety and traffic rules
Discussion n good health and hygiene
Self grooming
Use of dustbins
Importance and purpose of animals
Discussion on respecting and protecting animals and birds
Basic manners like using thank you, please & sorry
Differentiation between living & non-living things
V. OTHER ACTIVITIES
Story telling
Picture reading
Rhymes
Displaying family pictures in the class
Welcome cards
Welcome craft activity
Celebrating fruit days
Preparing certain snacks like lemonade, vegetable salad in class
Visit to the garden
Planting and taking care of seeds in the garden
Independence Day craft activity
Activities related to various festivals
Dramatization of plays/scenes
Health & Hygiene Week
Use and making of animal flash cards
Collage making
Making cards for special occasions
Stick and hand puppets
Sports
We lay emphasis on physical education and physical fitness. Apart from learning the intricacies of various games, sports and physical education, the students develop stamina & endurance that is so essential to be able to get away from a sedentary way of life and develop the spirit of sportsmanship. We believe that playing sport is not just about physical activity but is essential to the holistic development of an individual. The sporting activities available in our campus are Cricket, Football, Tennis, Hockey, Volleyball, Badmintion, Tabletennis, Basketball, Swimming, Horse riding, Volley Ball and an Ultra Modern Gym.
Art & Music
Art is one of the highest forms of expression, a language that we speak, cutting through individual differences in culture and ability. Art brings every subject to life and turns abstractions into concrete reality. At IPS the Art & craft classes give an opportunity to a child to express his/her innate senses. The Art & Craft classes provide every student an opportunity to explore his artistic side, be it painting, origami, oil on canvas or something as simple & unique as paper craft.
At IPS, Music & Dance are believed to be the expression of the soul. We focus on basic lessons of Music & dance. Our music & dance curriculum focuses on children learning basic music notes, basic dance movements which enable incredible coordination and foster close relationships. Our students are introduced to both Indian and Western music, vocal as well as instrumental. All kinds of Dance forms like Indian, contemporary, Hip Hop, Jazz etc. are introduced to children. Our students opt Music as their subject at secondary and senior secondary level.
Spare Time Activities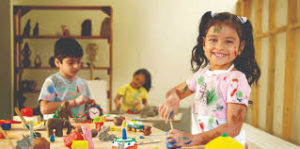 Students involve themselves in: pottery, gardening, toy making, needle works, painting, drawing etc.
Animal caring; horse, dog, and cow. Tree Planting & caring, Bee keeping agriculture etc are also open to the interested students.